Services
The LUKAS-KRAN company began its activities in 2006. Over the years, our fleet of special equipment has been replenished and now we are ready to provide our customers not only with the rental of truck cranes, but also with services for the transportation of heavy and oversized cargo throughout the country.
Construction work and cargo transportation are often carried out on weekends.
Striving to be useful to you, we have tried to organize the work of our company in such a way that on any day of the week you can count on our help.
We understand that our special equipment is necessary to ensure that the work does not stop, so our company is ready to provide you with a full range of services on favorable terms for you.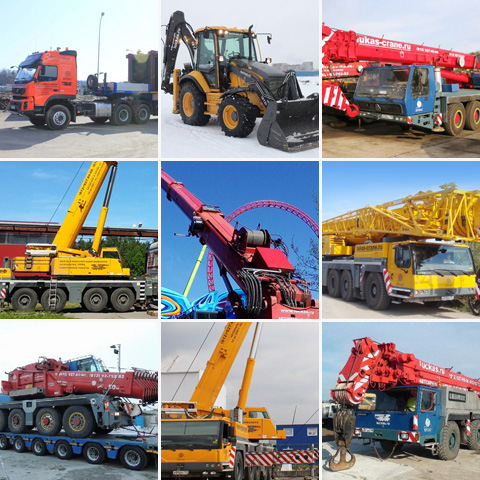 Rent a truck crane with a lifting capacity of 25-500 tons in the city of St. Petersburg and the North-West region, which includes:
consultations by our experts on the optimal selection of a truck crane, if necessary, their departure to the work site is provided;
the truck crane is rented with a full set of slings;
the rental period can be 0.5 work shifts, which will save you money;
together with the equipment, we provide you with a crane operator with experience and qualifications of the 8th grade;
if the company has free equipment in the park, we are ready to provide you with an urgent service;
significant discounts will be provided to customers who have concluded a lease agreement for a truck crane with an operating mode of more than 10 hours a day;
by concluding a lease agreement with us for lifting equipment, you have the opportunity to use the service for the transportation of oversized;
Services for the transportation of heavy cargo and oversized cargo weighing up to 80 tons, includes:
receiving your cargo at the port of St. Petersburg;
coordination of the route and registration of permits, if necessary, escort of oversized cargo will be organized;
loading and unloading and storing your cargo with mobile cranes;
providing a place for parking and storing your oversized items in our guarded parking lot.
We work every day and are ready to cooperate with intermediary organizations and dispatch services, providing discounts and bonuses for our services!
There are often situations in which it is simply necessary to use specialized equipment. Moreover, not every firm or company, whatever it does, can boast of having a truck crane in its list of cars. Since the purchase of an automobile crane, even a large organization is considered irrational - the cost is high, but it is not used so often. The process of renting a truck crane is much justified.
The company "LUKAS-CRANE" in St. Petersburg rents out truck cranes of all types of lifting capacity. Our price and quality are ideal for any customer to perform a variety of jobs.
We offer such vehicle cranes as LIEBHERR (Liebherr), DEMAG (Demag), Masheka, Klintsy, with which you can perform any type of loading and unloading or construction and installation work. All of the above equipment can easily transport cargo, the mass of which ranges from 10 to 200 tons. All truck cranes are equipped with booms, additional equipment, and the maximum hook height during the lifting process can reach up to 100 meters. Individual drives are inherent in each of the mechanisms. All equipment has a fairly compact size, so they are perfect for working in confined areas, and thanks to the chassis, truck cranes have a high level of maneuverability, as well as are light and easy to operate.
After the lease agreement is concluded, the LUKAS-CRANE specialists go to the construction site to perform the work, promptly and efficiently. Our specialists, if necessary, can work around the clock.
With us you can rent semi-trailers - heavy trucks, Trawl (low bed sliding semitrailer) with a carrying capacity of 80 tons, and Shalanda (platform with removable sides) carrying capacity up to 45 tons. With their help, it is possible to transfer construction and road special equipment (bulldozers, rollers, tower cranes, drilling rigs, combines), various equipment, tanks of different sizes, pipes, containers, metal and reinforced concrete structures, building materials on pallets, etc.
We also provide services for loading and unloading oversized cargo, and, if necessary, we will provide parking with security, 200 meters from Moskovskoye Highway at the intersection with the St. Petersburg Ring Road.
For clients who have repeatedly rented equipment from us, a system of discounts is provided.