Scow-heavy truck
The scow-heavy truck  has a dependent air suspension with height adjustment. The first and second lifting axles: automatic hanging depending on the load.
Loading on the scow is carried out lateral, top, or with the opening of the board. The sides of the scow are equipped with reliable fasteners, which ensure reliable fixation of special equipment of any shape.
With its help, it is possible to transfer construction and road special equipment (bulldozers, rollers, tower cranes, drilling rigs, combines), various equipment, tanks of different sizes, pipes, containers, metal and reinforced concrete structures, building materials on pallets, etc.
Specifications:
| | |
| --- | --- |
| Model | Volvo FM 440 |
| Carrying capacity | 45,000 kg |
| Total number of axles | 7 |
| Wheel formula of the Volvo FM 440 tractor | 6x4 |
Cargo platform dimensions:
| | |
| --- | --- |
| Length | 13.7m |
| Width | 2.55m |
| Loading height | 1.5m |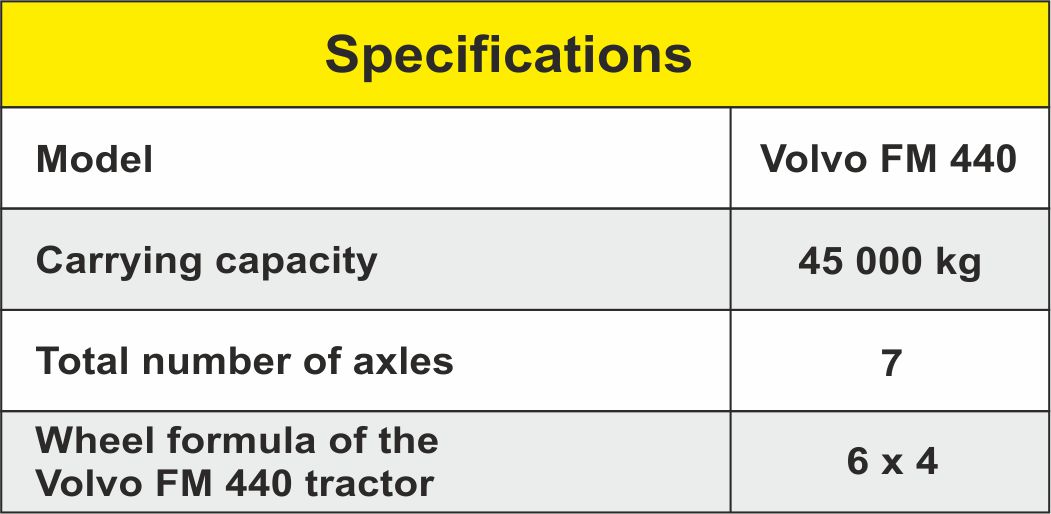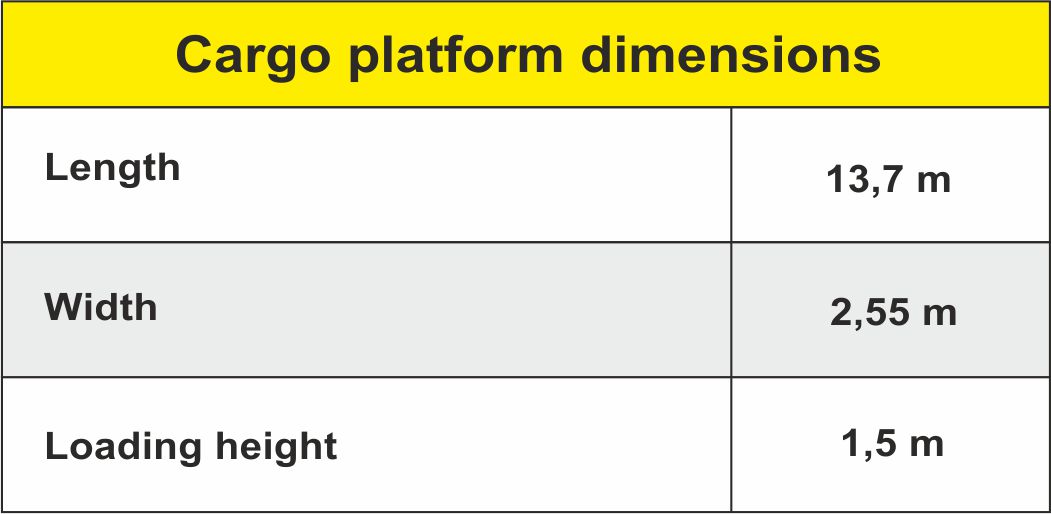 A 4-axle heavy-duty semitrailer (platform with removable sides) is most often used for the transportation of heavy cargo, such as:
road slabs (2P30-18-30; 2P30-18-10),
airfield slabs (PAG-14; PAG-18; PDN),
reinforced concrete and steel blocks, beams, girders, pipes, rings, panels, fence sections,
counter-cargo, transformers, BKTP, heavy equipment,
tower and bridge cranes,
metal structures (KM),
reinforced concrete structures (KZh),
bricks, cement, tiles, blocks, other goods on pallets,
sea containers 20 feet, 40 feet
and many other multi-tonnage cargo.
The cost of renting a scow-heavy truck depends on several factors. Therefore, the exact cost will be announced to you by the manager.
Call  +7 (812) 645-26-23 
Discounts are available when renting a scow with a mobile crane!
The company "LUKAS-CRANE" has been operating truck cranes with a lifting capacity of over 40 tons for more than 5 years and carries out complex loading and unloading and installation work. For many years we have been absolutely successfully carrying out the transportation of oversized cargo with the coordination of routes and escort of the traffic police throughout Russia! 
More photos and videos with a description of the work can be viewed here: OUR WORKS