Aerial platform Hansin HS500 50m
The HANSIN HS500 auto-hydraulic elevator (AGP aerial platform) with a telescopic boom of 50 m, provides the maximum lifting height in the class of aerial platforms on a compact chassis with 2 wheel axles. Like all aerial platforms of the LUKAS-KRAN company, the HANSIN HS500 has a remote control (remote control), which allows the operator to be located in a convenient viewing place for more accurate positioning of the full-revolving working platform (cradle) when performing high-altitude work of any complexity.
The full-revolving cradle measuring 2.2 x 0.9 x 1.15 (L x W x H m) made of high-strength aluminum has a dielectric insulation of 1000 Volts, which protects the electronic systems of the AGP, preventing the electricity of the welding machines from passing from the cradle to the telescopic boom of the aerial platform. The most advanced systems of the South Korean 50m HANSIN HS500 aerial platform provide maximum safety at high speed and precision of operations. All this gives a very high productivity in the production of high-rise work of any complexity.
Compact and reliable Japanese ISUZU FORWARD chassis (wheel arrangement 4 x 2), provides a minimum turning radius, allowing the HANSIN HS500 50m aerial platform to easily maneuver between building structures. Such maneuverability is indispensable in the industrial construction of various industrial facilities.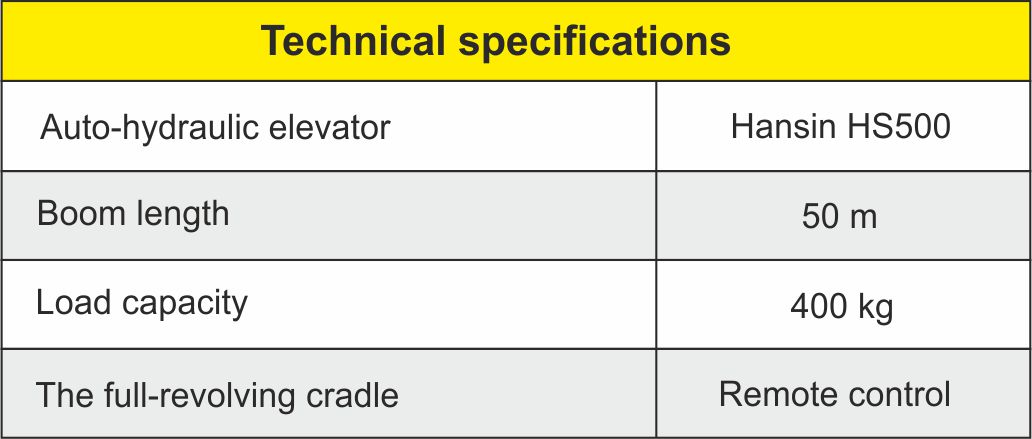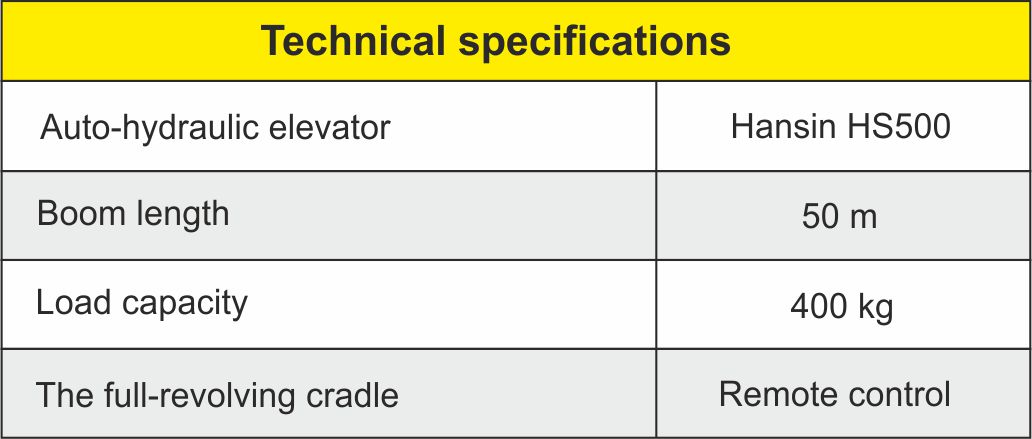 More photos and videos with a description of the work can be viewed here: OUR WORKS