Aerial platform HORYONG E-SKY 510KR
South Korean aerial platform (auto-hydraulic lift) HORYONG E-SKY 510KR on ISUZU GIGA 6x4 chassis by LUKAS-KRAN company, is the flagship in its class with a controllable telescopic extension with a negative angle.
The main advantage of this model is work in a wide horizontal range with the ability to bypass obstacles !
This auto-hydraulic lift allows you to work at a height of up to 51 meters with an extension of the boom to the side up to 32 meters with a load in the working basket of up to 200 kg!
AGP HORYONG E-SKY 510KR has the ability to lift 550 kilograms of total load in the working basket to a height of 42 meters with a horizontal reach of 22 meters and up to 49 meters in height with a horizontal boom of up to 16 meters!
Also, when working with bridge structures, overpasses, docks, pits, etc., it is possible to find the working basket below the level of the platform on which the HORYONG E-SKY 510KR stands down minus 9 meters!
Like all AGP aerial platforms of the LUKAS-KRAN company, the 51m HORYONG E-SKY 510KR has a remote control on the radio channel, which allows the operator to be in a place with a good view of the work process and precisely position the cradle with high-rise workers and installers!
Full-revolving cradle measuring 3.2 x 1.10 x 1.16 (L x W x H m) made of high-strength structural aluminum has a dielectric insulation of 1000 Volts, which protects the electronic systems of the AGP, preventing the electricity of the welding machines from passing from the cradle to telescopic boom of an autotower. The most advanced systems of the South Korean 51m HORYONG E-SKY 510KR aerial platform provide maximum safety at high speed and precision of operations. All this gives maximum productivity in the production of high-rise works of any complexity!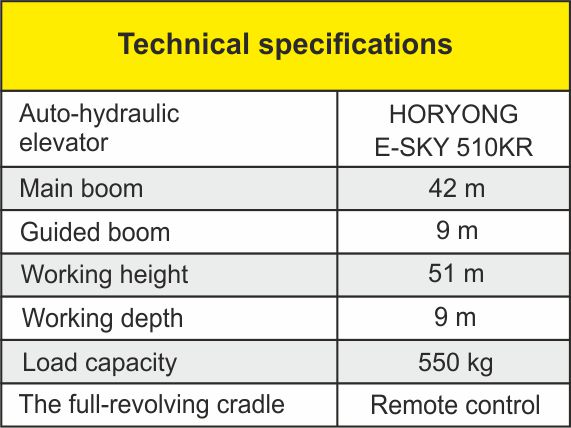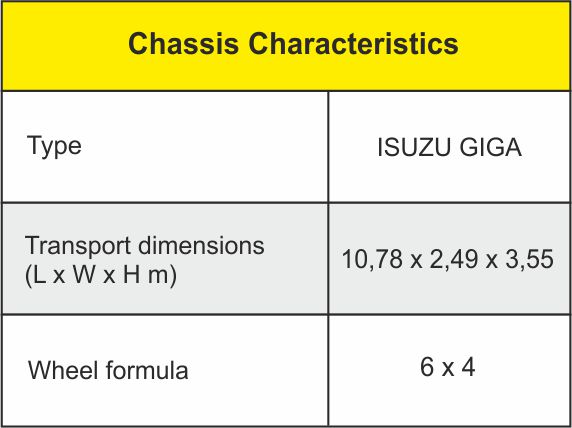 More photos and videos describing the work can be viewed here:OUR WORKS