300 тонн DEMAG AC 300-6
Download catalog DEMAG AC 300-6
The German truck crane DEMAG AC 300-6 has a telescopic boom of 80 meters!
Despite the fact that it is the most compact 300t mobile crane in the world, its basic lifting characteristics are superior to existing counterparts at radii from 6 to 50m.
Absolutely all steerable axles of the mobile crane DEMAG AC 300-6 allow it to easily maneuver in tight spaces and move freely on narrow roads. Features such as crab (diagonal) and close-radius U-turns allow it to enter places where a normal scow cannot go.
The folding, two-section lattice jib 11.4 / 21m has a hydraulic control, which allows you to change its angle from 0 to 40 degrees directly during installation, which in many cases is simply irreplaceable.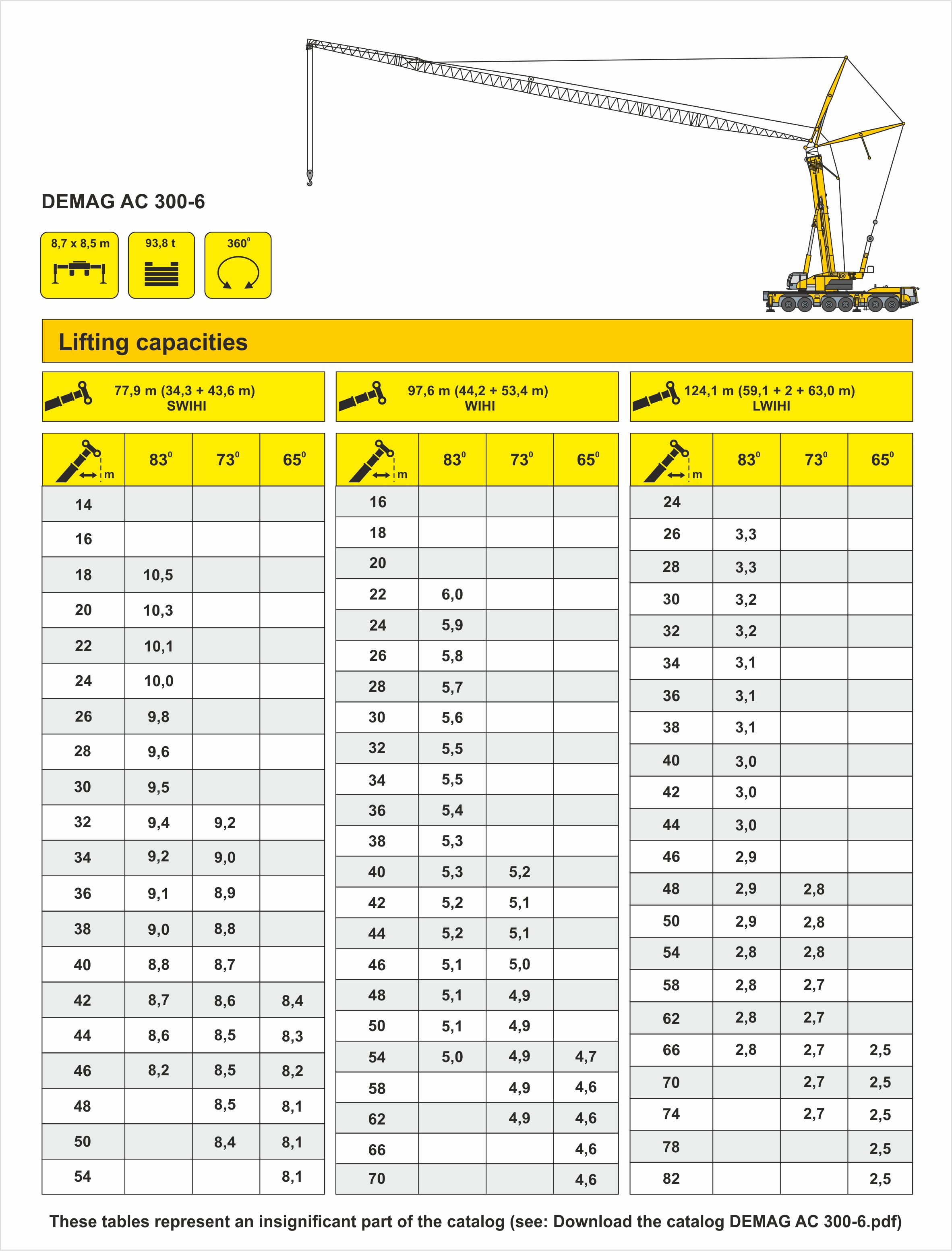 The mobile crane DEMAG AC 300-6 by LUKAS-KRAN is equipped with a controlled (shunting) lattice jib with a maximum length of 63 meters. This configuration of the crane is also called a tower-boom design - when the main boom of the truck crane is fixed at a given length at an angle of either 83, or 73, or 65 degrees, and all operations to move the load are performed by changing the angle of the controlled (shunting) extension and turning the entire tower -shooting installation. The shunting (controlled) extension has several configurations:
SWIHI - lengths from 26 to 44 m for moving heavy loads weighing up to 28 tons;
WIHI - length from 36 to 54 m for moving medium loads weighing up to 16.5 tons;
LWIHI - in lengths from 45 to 63 m for moving light loads weighing up to 6.5 tons
In addition to the controllable and folding jib, the 300t DEMAG AC 300-6 mobile crane is equipped with rigidly fixed lattice jibs and an assembly jib:
SF - lengths from 14.6 to 32.6 m for moving heavy loads up to 28 tons
F - length from 24.4 to 42.4 m for moving medium loads up to 21 t (section 6 m with a head 0 - 20-40 g.)
LF - length from 34 to 52m for moving light loads up to 9.5t (section 21m with top 0 -20 -40 g.)
MS - a mounting jib with a length of 1.6 m, allows mounting equipment weighing up to 40 tons inside industrial premises (with a limitation in height above the boom head and before the hook suspension).
 All this maximum configuration of the crane 300t DEMAG AC 300-6 allows you to solve most of the most complex installations in industrial construction.
Contact the managers of the LUKAS-KRAN company, who will promptly organize a visit of the design engineer to your facility to select the optimal crane configuration. Subsequently, you can also order from us the development of technological maps, both as part of your PPR (development of the PPR PS section), or the development of a separate PPR PS (PPRK) for installation work using lifting structures (cranes).
More photos and videos with a description of the work can be viewed here: OUR WORKS