100 tons LIEBHERR LTM 1100-4.1
Download catalog LIEBHERR LTM 1100-4.1.PDF
Mobile 4-axle crane LIEBHERR LTM 1100-4.1, one of the most compact mobile cranes in the world with a lifting capacity of 100 tons!
The truck crane of 100 tons is based on its own chassis with 4 steered axles, 3 of which are leading (wheel arrangement 8 x 6). The crane is able to overcome steep inclines, move diagonally (crab move) and turn almost on the spot (along a small radius).
Axial and inter-axle locks of the three driving axles and automatic transmission low gears make it unusually passable on unpaved, sandy and snow-covered areas. The Liebherr 100 t mobile crane has a height-adjustable suspension with many settings.
The telescopic boom of the LIEBHERR LTM 1100-4.1 crane extends from 11.5 to 52 meters. The double lattice extension of the truck crane will add 10.8 or 19 meters to the boom, which is a maximum of 71 meters. The extension bar changes the angle by 22 and 40 degrees, which is often used when working on the roof of multi-storey buildings. Using only a transport counterweight of 2.2 tons, the crane is capable of lifting a load weighing 10.5 tons to a height of 50 meters!
Most often, the LIEBHERR 100 ton truck crane is in demand for the installation of transformer substations, tower and bridge cranes, equipment of plants and factories, smoke removal systems, air conditioning on multi-storey buildings and shopping and entertainment complexes, loading and unloading heavy equipment, machinery, lifting and launching boats, yachts and many other works.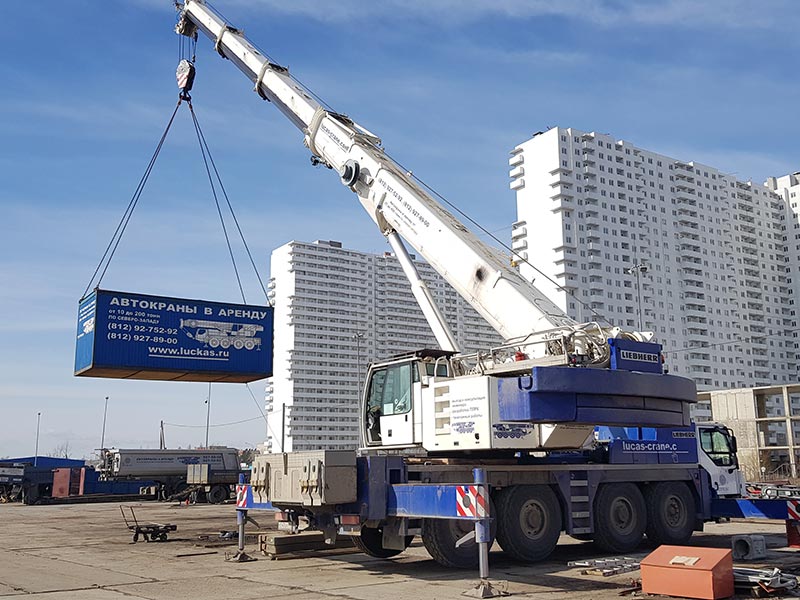 More photos and videos with a description of the work can be viewed here: OUR WORKS